The lowdown
︎︎︎our Blog
low·down /ˈlōdoun/
noun:
1.
the true facts or relevant information about something.
The Project Shop has a
reduced social media
presense. Stay informed
by signing up for...


Takeo Hiromitsu

Wear it! CSA featured artist
Limited edition will go to subscribers first.
Sign up by 3/23 to secure your size and style preference. any extras will be available on our store.
Unisex Short Sleeve Shirt just in time for Spring 2022 with no less than 3 print locations. Available in Dusty Blue or Vintage Rose.
After subscription is received Reina will contact you to confirm your subscription, style and size preference and if you would like free Local Pickup or Worldwide Delivery.

$40 per quarter or save %20 with an annual subscription

---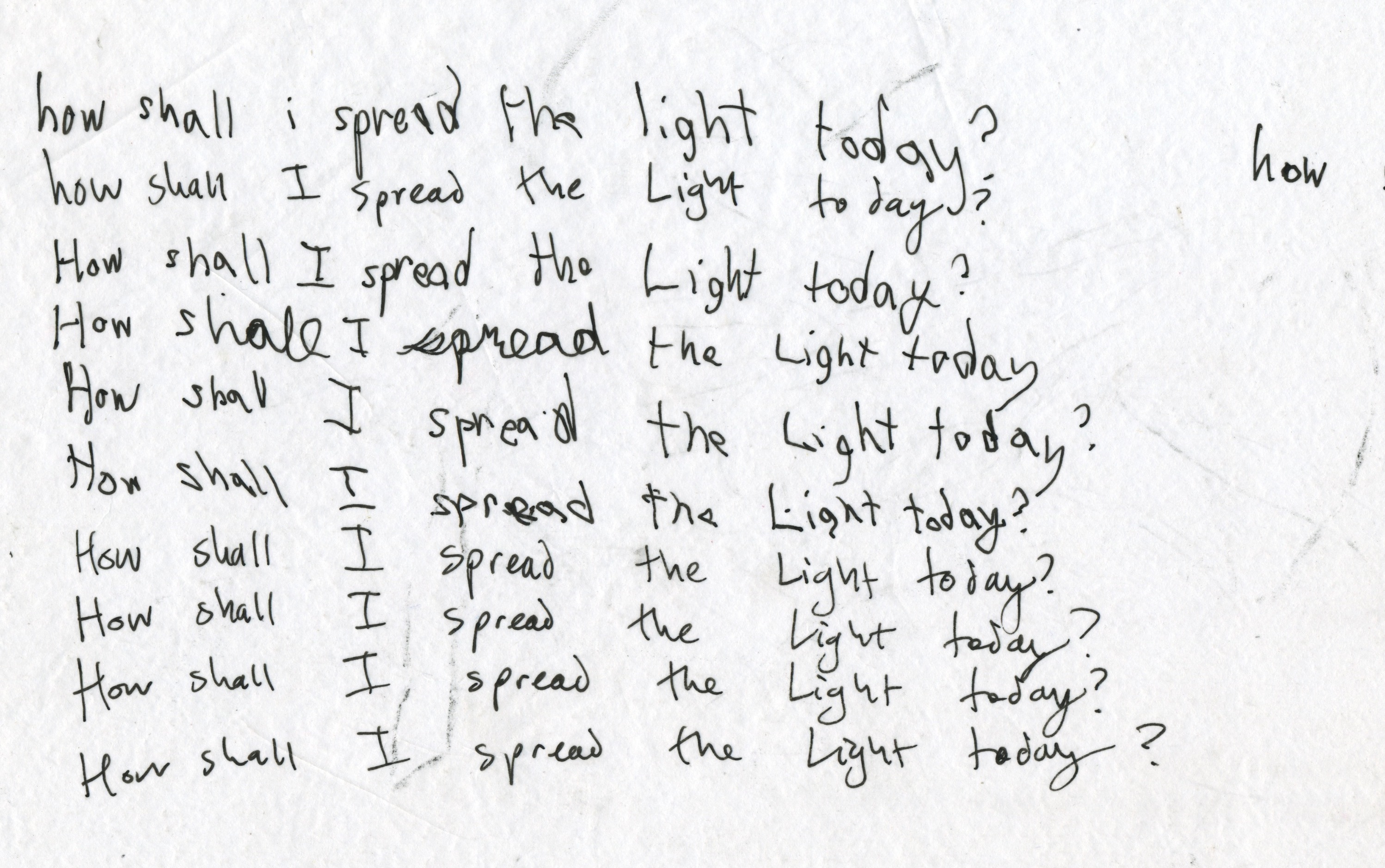 Artist Statement about the Design

All of the elements of this design lead me to questions of choice and meaning. Do I have free will? What is the relationship of free will to being alive? If I am the figure falling into the golden field of cosmic horror. Was I conscious before the fall, or did my consciousness awaken amidst the fall? Would these differences change the implications or meaning? These threads, woven, tangled, are me struggling with nihilism and being stuck in a cognitive loop. The Question/Directive on the back of the shirt is a doorway. A way into action and embodiment, that to me, can dissolve the mental stranglehold that nihilism provides me.

The Question/Directive was written in my left hand on a piece of my desk notes, I have a practice of having large pieces of paper covering my desk so I can write or doodle and procrastinate. My left hand is more honest, exacting and less accurate. The hot air balloon monkey fishing and falling figure is a drawing of feeling with India ink and nibs on cotton rag. I like these marks, the movement. A golden background is derived from my intaglio prints. These prints signify a time in my life when the meaning making system of my childhood entered the deconstructive process of post-modern conceptualizations.

I think knowing any of this is unimportant. It is the Question/Directive that drives us.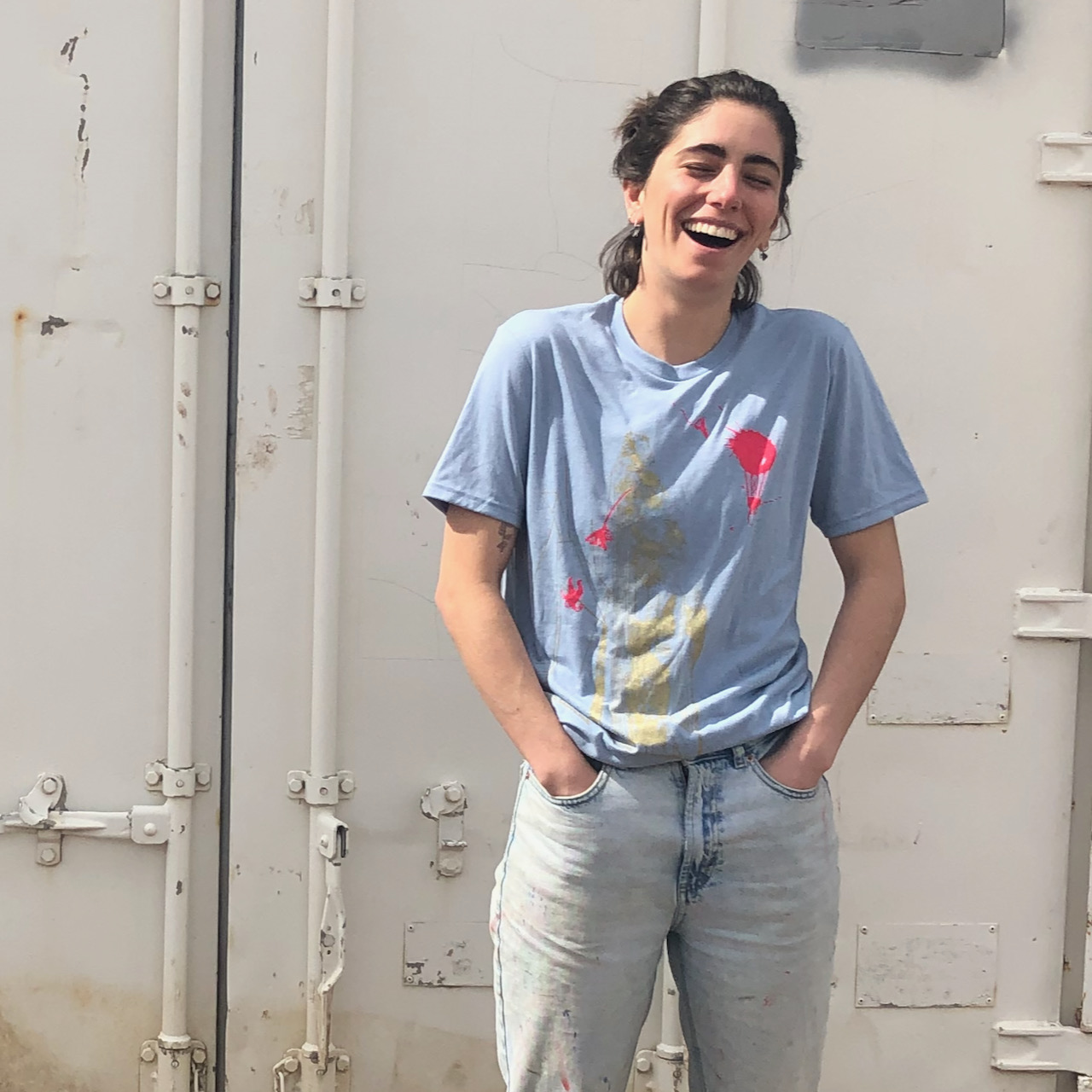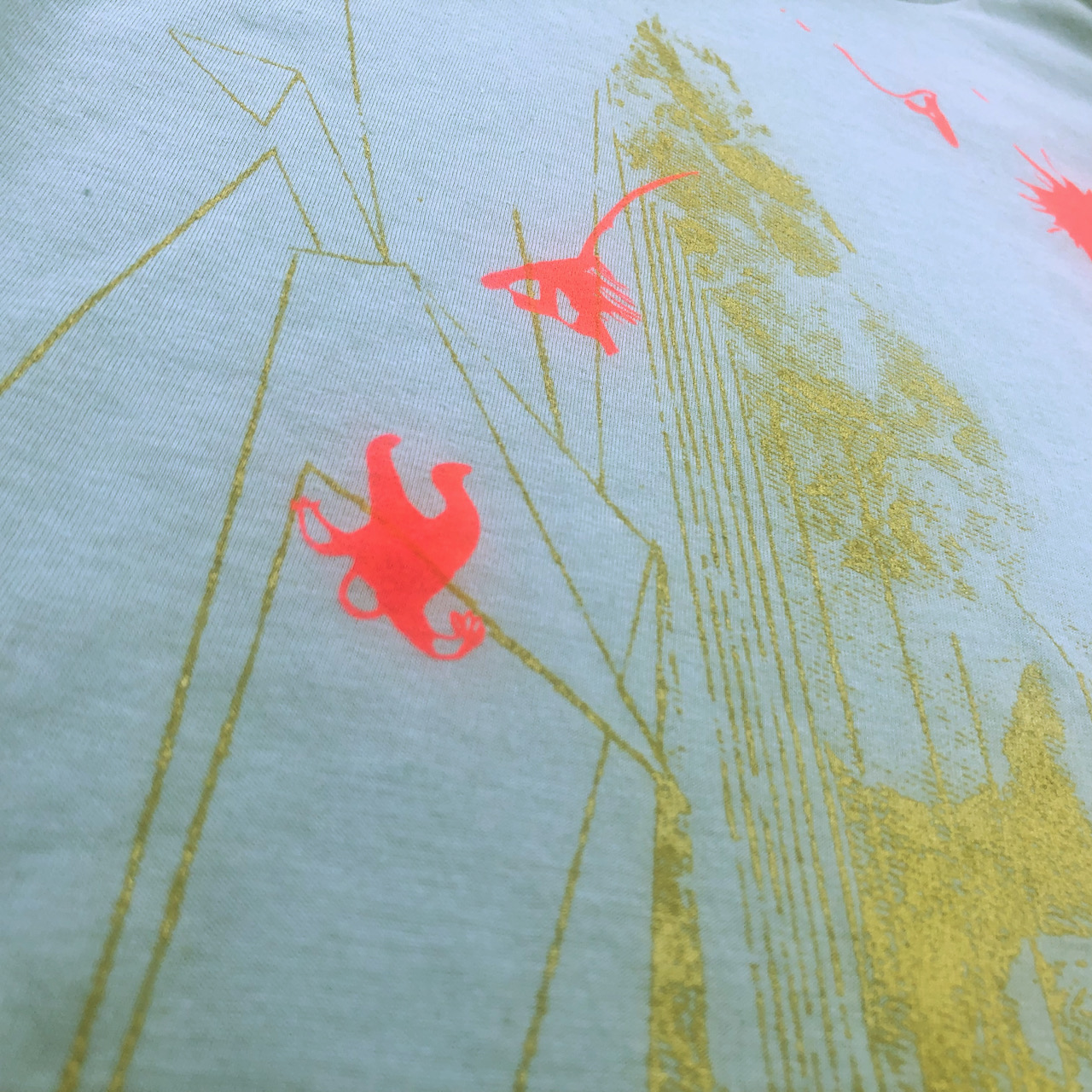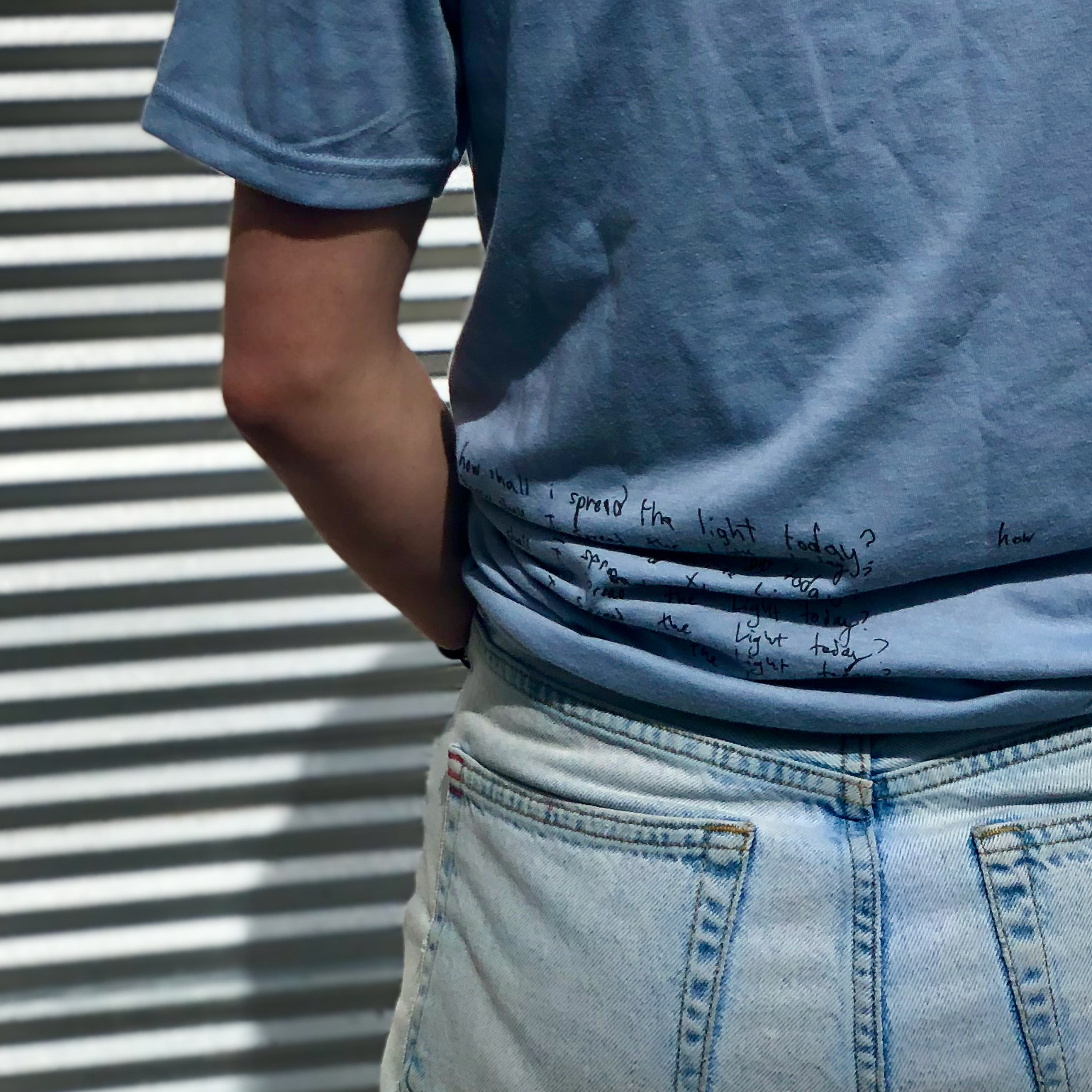 Size small shown on artist Hannah Stoll
---
RObert Burch

Mail it! CSA

Dear Friends,
Last month mixed media Mail Art happened in a big way. Robert Burch, glass, metal and graphic artist came to the shop and created a truly unique series for our CSA. A few years back he gifted me a roll of Player Piano Roll. The perforated holes much like an early computer punch card allowed the player piano to play music without an operator. The treasured item rested safely on a shelf in the shop until he showed up fresh from the School of Visual Art in NYC to explore some traditional print with a fresh perspective. A wonderful collaboration ensued and he produced a killer limited edition for our CSA subscribers. As past featured artist Deborah Jones said, "Love it — especially the on-purpose askew fold and that fascinating translucent paper with those marks on it. I am reminded once again of how diverse artists are; their vision and execution, their treatment of form and content…. Can't wait for quarter #3."

What was old (player piano paper, vintage handset type…) becomes new and then back again. This only happens with your support, encouragement and participation. I am very grateful for these opportunities.

with love,
reina and the project shop

Words from the Artist
The symbols of written music have their own kind of visual style. These postcards have several elements who are trying to mimic the imagery of sheet music. The watercolors have been painted in a way to harbour some vague notion of bouncing notes. Antique piano paper was cut, painted, and fused to the postcard. A mixture of letterpress typefaces were printed onto the piano paper in a whimsical arrangement once again reference the concept. The title "Plastic Ivories" is a way to address the progress of time from these antique rituals from old grand pianos to a dim light bulb going off in a print studio, pulling all these ideas from the past into the present, and eventually to you.
- Robert Burch


$50 per quarter or save %20 with an annual subscription
4 deliveries a year of limited edition Mail Art.
1 for you and 1 to send onto a friend.

Postage included.



---
Donkey Rescue Fundraiser

Service Project for Equitarian Initative


Donkeys are beasts of burden we don't always treat well. The Roaring Fork Valley prospered, thanks in great part to donkeys working the silver mines. But now it's not easy to find a property where they are welcome. Horses are beautiful and fancy and aristocratic; donkeys are the plebeian underdogs. After a year during which healthcare workers have put their own lives on the line for all of us, scrubs should be haute-couture. Whether you have decided to live in pajama pants from now on or have a friend who's a vet tech or nurse or dentist or doctor, thank you for considering purchasing something. We all want to leave the Corona virus behind, but let's not forget all those people whose lives have been and continue to be severely affected by it. As of this writing, almost five million people, including over 700,000 Americans, have lost their lives.

The Covid-19 pandemic has magnified the ways in which we are all interconnected and the importance of the essential worker. Community service has never been more crucial. Let's celebrate the essential worker who has helped you or someone you love, animal or human.


Shop Donkey Print Goods
Artist designed and printed. All proceeds benefit the Equitarian Initative
---
Short Sleeve Unisex Shirt
---
Tea Towel/Furoshiki
---
Long Sleeve Women's Shirt
Featured Artist and Donkey Resucer
Natascha Hildebrandt loves to solve problems and to make things. For the last few years she has been working in functional ceramics. As a lover of architecture and food, animals and flowers, she has been working on vases and trying to capture the beautiful Colorado sky. Home and rescue animals are main themes in her life and she is working towards her forever home with rescued donkeys.
Words from the Artist
The Carbondale clay community has been incredibly supportive and welcoming to me as I explore ideas of home, vases, and animals in ceramics. Chasing my vision of how to make a glaze of the Colorado sky led me to meet Jay Mirriam and Lucy. Living here has made it clear that I want to give a home to donkeys. My parents recognized and encouraged my love for animals early on; I still have the book My Donkey Benjamin.
It had been a long time since I made a woodcut, but I wanted to collaborate with Reina on a project of donkey scrubs and give back to this and our larger community. As with all challenges, there was a moment of feeling like I'd hit the wall, but with her encouragement, we kept going.
---
Ascend fellows @ aspen institute

Bookbinding and Letterpress Print workshop

We brought the Project Shop to the Aspen Institute – including bookmaking materials, collaging supplies, and an vintage table top letterpress! Reina facilitated a bookmaking workshop for the Aspen Institute Fellows, a group of heart centered leaders working to improve the lives of children and families in the U.S. Ascend Fellows took some time to reflect, and design their own hand sewn book. Many collaged about their experience, and were blown away by the magic of printing their own original ex-libris bookplates on our vintage tabletop platen letterpress. Some planned to use their book as a journal, or to give away as a gift. After months of online meetings it was the first time the 2021 class of Ascend Fellows met in person, and Reina's bookmaking workshop facilitated an amazing opportunity for creativity, community, and connection.
---